A colourful dive into an underground world.

Based on the testimonies of prostitutes, collected in the red light areas of Brussels... an investigation into the world of prostitutes.
One of them has disappeared... without a trace.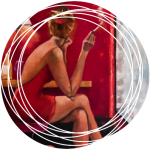 Let's lift the veil on "the oldest job in the world",
on the "belles de jour", the courtesans, the girls of joy...

Under the Red lights of Desire, through Véronique's mouth,
hear the stories of those we don't hear much about,

those who have a very open language,

those who are approached by men and vilified by women,

those who do what some refuse to call a job,

those who have two names but only one body,

those who offer their charms in spite of everything...

 
Véronique awaits you in a boudoir, on a stool, without stilettos, for a moment of intimacy.


With : Véronique de Miomandre

Director: Max Lebras

Translation assistance: Liz Weir
A creation by Véronique de Miomandre and Max Lebras

A co-production of Compagnie des Paroles and Collectif 1984

With the support of Espace P, Utsopie, Chiny -Cité des contes, Le dé à coudre, L'allumette, La Maison du Conte de Bruxelles, L' Os à Moelle...


Special thanks to Arthur, Bernadette, Catherine, Christian, Dédée, Doris, Emilie, Fabian, François, Janis, Lisa, Madame X, Marie, Michel, Monique, Muriel, Nadine, Rita, Rolande, Roxana, Sonia... and all the others who inspired us with their testimonies, their writings, their reports, their songs: Grisélidis, Nelly, Clarissa, Catherine, Anne, Khristine, Georges, Germaine, Nitta, Igor...


Press revue
"Under the Red lights of desire is fair, funny,
so hard-hitting that it goes way beyond the stage
to appeal even to politicians." 
(Le Vif/L'Express - 8/11/2018)

Testimony from Clare MK
Veronique captured the voices of these ladies from many different  personalities and perspectives.  But in this piece,Veronique has captured so much more than just shame that surrounds the profession.She has touched on the relationships that spring up with clients. And the strong ties that build up between the street workers themselves. She draws parallels with  the ways that we all in some time or way have sold ourselves for someone or something. It invites us to rethink our thinking. The powerful love letter at the end speaks volumes about what true love is really about.
Thank you for this inspiring piece.


Testimony from Dearbhaile

I loved the way that you present the different characters, let them speak for themselves. Each had their own voice, mannerisms, presence. Whoa, that takes some doing! And the way that you wove different kinds of stories, poetry, songs into the performance. 
You tackle a difficult subject with empathy and creativity.Thank you so much. So glad I got to be there.